PM Modi Lands In Israel, Says Visit Will Be A 'Turning Point': 10 Facts
During PM Narendra Modi's trip to Israel, the two sides are expected to announce strategic partnerships in areas including water, agriculture and space technology.
All India | Edited by Aloke Tikku | Updated: July 04, 2017 18:50 IST
Sponsored
Hitler's Final Bunker Discovered, Wait Till You See Inside (Trend Chaser)
25 Actors Who Transformed Drastically for Game of Thrones (Fropky)
94SHARES
EMAIL
PRINT
COMMENTS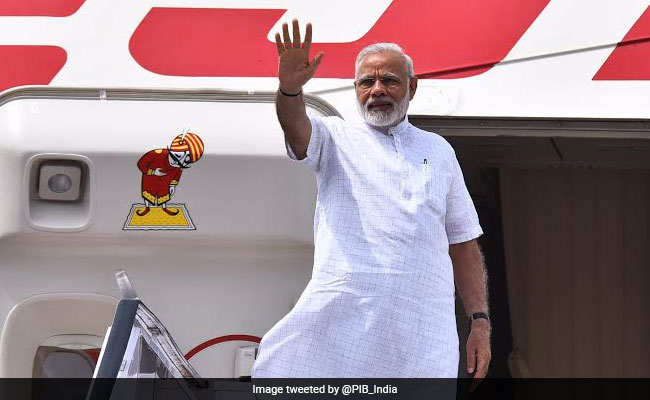 PM Narendra Modi shortly reaches Israel in the first ever visit by an Indian premier.
NEW DELHI: Prime Minister Narendra Modi was received at Tel Aviv's Ben Gurion airport on Tuesday evening by his Israeli counterpart Benjamin Netanyahu in a welcome reserved for US Presidents. The two leaders shook hands and hugged. This is the first-ever visit to Israel by an Indian Prime Minister and Mr Netanyahu has announced that he will "accompany the Indian prime minister at many events during his visit as befits the leader of the largest democracy in the world".
Here is your 10-point guide to this landmark trip:
"We are confident that 25 years from now, Indians and Israelis will look back on this visit as the first of many historical milestones that we reached together in the great friendship between our peoples," PM Modi tweeted, quoting from a blog he co-authored with PM Netanyahu.
Israeli PM Benjamin Netanyahu who has called PM Modi "my friend" on several occasions, said "This visit will deepen cooperation in a range of areas – security, agriculture, water, energy, almost every field in which Israel is engaged."
Over the next three days, PM Modi and Mr Netanyahu will hold extensive talks to scale up cooperation. Under his signature "Make in India" scheme, PM Modi is expected to advance sales and production of missiles, drones and radar systems.
The centrepiece of the collaboration is the Barak-8 air defence system, built jointly by the two countries in a boost for PM Modi's campaign to develop a domestic defence industry and reduce arms imports.
The visit to Israel, already, India's top arms supplier, is being seen as historic not just for the pacts that will be signed but because this is the first time that New Delhi has, as one Israeli analyst put it, come out of the closet.
India has traditionally been cautious in its dealing with Israel, partly because of an alleged wariness of upsetting Arab states and Iran, upon whom it relies for its vast imports of oil, as also its own large Muslim population. PM Modi will not travel to Ramallah, the seat of the Palestinian Authority and a customary stop for visiting leaders trying to maintain a balance in political ties.
The shift in India's approach had started soon after the Narendra Modi government came to power in Delhi. PM Modi and Mr Netanyahu met on the margins of the United Nations General Assembly in New York in September 2014, the first meeting of premiers of the two countries in over a decade. This is Narendra Modi's second visit to Israel; he had last travelled to the Jewish State as Gujarat Chief Minister in 2006.
Israel on Monday said it completely supports India in its fight against terror emanating from Pakistan and within the country. "Israel has never hidden the fact that it supports India hook, line and sinker on the subject of terrorism… You have suffered from terrorism from inside India, and not just emanating from Pakistan, which has been seen in recent history," the Deputy Director General of Israel's foreign ministry, Mark Sofer, told reporters in Jerusalem.
On July 5, PM Modi will also address Indians in Israel who have launched a website for his trip. About 80,000 Indian Jews belonging to four different communities – Bene Israel, Cochinis, Baghdadis and Bnei Menashe – live in Israel.
On July 6, the prime minister will travel to Hamburg for the G-20 Summitbeing hosted by Germany on July 7-8. The theme chosen for this year is 'Shaping an Inter-connected World'.